Gamernight News
Game - Forza 5
System - Xbox One
Date - Tues 21st Jan @ 9pm
Places - 16
Host - Ruffian Stew
After last Tuesdays fun and games with our 1st Forza 5 night on the Xbox One I think it was a great night after we got to grips with the odd way to get people into the private lobby. Now we have that sorted I think we can get more racing in than last week as we are more up with the settings etc.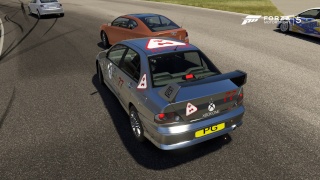 The only thing to remember with the new way the parties are set up and the Forza 5 party system is that I will send invites out to all the drivers that have signed up as they come online. The invites will be party invites that once you join it will automatically drag you in into the private Forza 5 lobby (as long as the driver has Forza 5 running). Once you are in the private lobby and the party DON'T turn on party chat! It will keep us in game chat. If you have any questions on that please post them below and I will try to answer you.
This RuffNight Gamernight is open to all Ruff Gamers no matter their level of skill behind the wheel its all about having a laugh with like minded gamers! This is open to new and old Ruff Gaming community members - If you are not a member of the forum why not sign up and take part for this fun night!
We will be using a mixture of cars, tracks and game modes so this is a great chance to check out Forza 5's online modes if you haven't ventured that way yet!
If you wish to take part then just below to book your place!
Start your engines!
Ruff
The Starting Grid -
1. RuffianStew (Host)
2. Iceman D18
3. RaingodZippo
4. Darkestfrost
5. T3RRAF0RM
6. SMB91
7. Nash
8. X Bulldog
9. Wackybar
10. Boosterdq
11. Booster Guest
12. Windy B0wels
13.
14.
15.
16.
Pitt Lane/Maybe List
1.
2.
3.
4.


Last edited by RuffianStew on Tue Jan 21, 2014 8:05 pm; edited 8 times in total