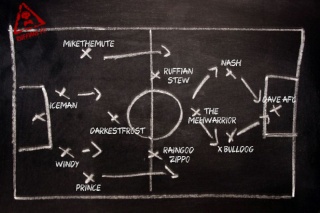 Ruffians FC
Fifa 14
Xbox One
20th August 2014
9pm Onwards


Ruffians FC will once again be taking to the field this Wednesday 20th Aug 2014. We have had a mixed bag of results over the last few weeks but it's been good to see most of the team playing, with some new faces making their impact felt.



Please sign up below if you are DEFINITELY going to be able to make it. If you are unsure if you can make it or not, still post below, just mention that you aren't sure and we will put you on the subs bench!
Look forward to seeing you on the field!

Starting Line Up
1. Iceman D18
2. Womble
3. Raingod Zippo
4. The Mehwarrior
5.  Dakestfrost
6.
7.
8.
9.
10.
11.
Subs Bench
1.
2.
3.
4.
5.
6.


Last edited by ICEMAND18 on Wed Aug 20, 2014 5:20 pm; edited 3 times in total