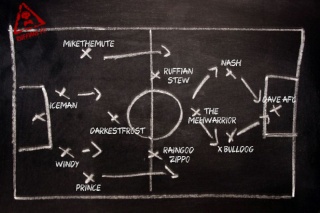 Ruffians FC
Fifa 15
Xbox One
21st January 2015
9pm Onwards


Ruffians FC will once again be taking to the field this Wednesday for our regular fixture night!! Apologies for those that signed up last week, I had technological issues!!!  

We hope to produce more highlight videos showcasing exactly what Ruffians FC is all about!

Along side the highlight videos we hope to run regular kit polls, competitions, goal of the month etc etc.

So if that sounds like your cup of tea then please sign up below to ensure you are in the starting 11. Anyone who signs up will get priority of places and positions, so if you really want to play goalkeeper (not that anyone does...) then ensure you sign up.

If you are not 100% sure that you are going to be on then still sign up and I will put you on the sub bench.

See you on the pitch!!

PS There is a rumour El Capitano might be making his long awaited return...


Starting Line Up
1. Iceman D18
2. Pgtips77
3. Raingod Zippo
4.
5.
6.
7.  
8.
9.
10.
11.
Subs Bench
1.
2.
3.
4.
5.
6.


Last edited by ICEMAND18 on Tue Jan 20, 2015 10:39 am; edited 2 times in total