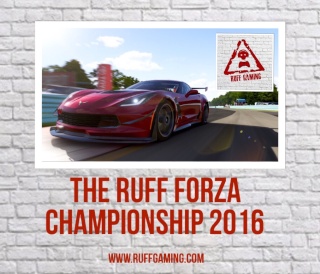 The Madness Returns - Sign Up Here!
They say time makes the heart go fonder, so on that basis you all must be desperate to hit the asphalt. After being away for over 2 years, the Ruff Forza Championship is back and we are going back to its roots!
For those of you that have been around for a while, you might remember the first championship we hosted and the particularly famous 'Lotus' stage at Catalunya…. Well we are heading back to the good ol' days! So let's start with the basics…
Game Settings
As always with these races there a number of settings which are 'enforced' to try and make the racing more competitive between the racers:
• Easiest Steering – Normal
• Easiest Braking – ABS On
• Traction Control – Driver Choice
• Racing Line – Driver Choice
• Gears – Driver Choice
• Damage – Simulation
The above rules will be enforced through the games menus so if you practice I'd recommend using the above settings….
As you can see the damage will be set to simulation, meaning that the focus is on CLEAN RACING!!! Both myself and Ruffian Stew will be acting stewards for the competition and any unnecessary/deliberate collisions will result in that driver being removed from the championship! Luckily we have never had to do this in any of our previous championships and we don't really want to have to start now….. YOU HAVE BEEN WARNED. Whilst the main aim of this competition is fun, we also want to make it a competitive racing event!
There will be a full set of rules posted on the Forum for drivers (Old and New) to read and make sure they understand!
With regards to the Grid Ordering etc, there will be no qualifying and each race the Grid will be set to Random.Championship Details
The championship will consist of 5 races, one per week for 5 weeks (maths is great fun isn't it?!). Each race will be a different class/track combination with the first race being the following:
Round 1 - Tuesday 8th March 2016 @ 9:30pm
Rio National Circuit
B Class
24 Laps
The following race will be revealed on the Wednesday after each race through the Ruff Gaming Facebook Group/Page, Twitter Feed and on the Forum. The results for each race with a mini report will also be posted on the Forum on the Wednesday.
In terms of the cars that can be used, as long as it falls within that race weeks' class (e.g. B Class for Race 1) then you are free to use whatever car you like. We also encourage you to include your own paint schemes!!!
The point scoring system is simple and straight forward! The race winner will receive 24 points and then each place below that we simply deduct one point consecutively (e.g. 2nd 23 points, 3rd 22 points…etc…etc). What this means is that no matter where you finish you will be scoring points! As a little bonus, each week the fastest CLEAN LAP will get a bonus 2 points on their total score.
Prizes
Now for the important part of the post, what do you get if you win?! Well as well as a place in the Ruff Gaming Hallowed Hall of Fame, the winner will also get a Mystery Prize… this will be announced as the competition progresses!
We are welcoming all racers on the forum, old and new. With the extended grid we have space for 24 racers! Places are given on a first come first served basis and to sign up you have to comment below! Also ensure (if you haven't already) you have both myself (GT Iceman D18) and Ruffian Stew (GT Ruffian Stew) on your friends list.
See you on the track!
Iceman & RuffianStew
1. RuffianStew
2. Iceman
3. MehWarrior
4. WombleMK3
5. PGtips77
6. Wackybar
7. RaingodZippo
8. Jack Blanchard
9. Fast Bud
10. Darkestfrost
11. OddBeatty
12. T3RRAF0RM
13. Boosterdq
14. Gary Cridland
15. Sniperste77
16. Mikethemute
17. TheTaffman
18.
19.
20.
21.


Last edited by RuffianStew on Tue Mar 08, 2016 5:32 pm; edited 15 times in total