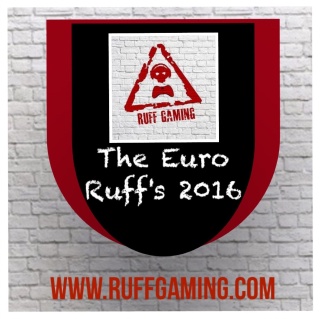 The Euro Ruff's are back!!!!
After we held the Euro Ruff's 2012 and the Ruff World Cup 2014, and having great fun and success with both of them, we thought it would be rude not to bring our Fifa based tournament back!
This Ruff Gaming competition will take place on Fifa 16, on the Xbox One. We will follow the same structure as the real life Euro Championship competition - group matches, then knockout rounds and on route to the final.
The team list will be based as near as possible to the Euro's in France, but we had to tweak the list slightly as there are a few teams not available in Fifa 16 that are in France this summer. There will be 24 places for the Euro Ruff's and the teams will be decided in a random draw. The draw will be streamed live over our Ruff Gaming YouTube channel, so the competitors can see that it is truly random! So yes, you might draw a 3 star rubbish team making it harder, but also you might get a 5 star epic team! It is random and that helps to add to the fun.
Even Scotland have managed to make the Euro Ruff's team list!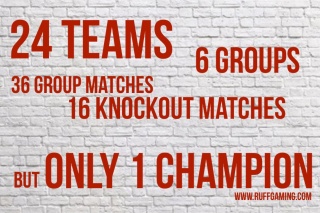 The live draw on YouTube will be held at 9:30pm on Sunday 12th June. Once the draw is complete the group games can be started to be played from Monday 13th June onwards. The full competition schedule and timetable will posted here on the forum. We will be aiming to hold the final around the 10th July.
I will post more information soon, but I'm hoping to add a 'Goal of the Tournament' competition and also a 'Player Award' for the Euro Ruff's 2016.
The prize will be a place in the hallowed Ruff Gaming Hall of Fame!
The full information on the games' settings and rules will be posted on the forum before the start of the competition. The theme, as always, for our competitions is be competitive (of course), but having fun and a laugh is the main rule!
All levels of skill are welcome - so don't shy away because you think you are rubbish! Hell, I'm the worst Fifa player going and somehow I managed to get to the final of the last Ruff World Cup!
Also if you are new to Ruff Gaming you are more than welcome to join this competition. All you have to do is sign up to our forum which is dead easy!
Post below if you fancy taking part - 1st come 1st served!


Ruff

1. RuffianStew
2. Iceman D18
3. OddBeatty
4. DanielDavidFlaz
5. RaingodZippo
6. T3RRAF0RM
7. PGtips77
8. Darkestfrost
9. Splatty
10. X Bulldog
11. MickyB
12. Womblemk3
13. NinjaNash
14. TheMehwarrior2
15. ShakeyLakey
16. Gary Gridland
17. Obesia Blue
18. Kevinfai1985
19. Mcmanners
20. Scottfair
21. CoyoteCub
22. Mikethemute
23. Windy Bowels
24.X x em x X


Last edited by RuffianStew on Tue Jun 14, 2016 6:53 pm; edited 18 times in total