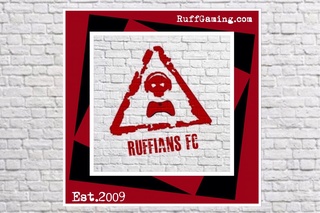 Ruffians FC - Fifa 17
Club - Ruffians FC
Game - Fifa 17
Platform - Xbox One
Tag - RFC
Captain - RuffianStew
Ruffians FC is our Fifa Pro-Club that started way back on Fifa 10 on the Xbox 360 and now enters its 8th year!
It is that time of year again when we start the new season and take to the virtual football field to play for the Ruffians FC badge. All the players from last year get 1st choice on the places for this new season and we will consider new players if we have room. If you played last year and want to take a place in the squad for Fifa 17 then post below and if you are new and fancy taking part then also post below and I will see if we have room.
I have slightly tweaked the club badge for the new season (as you can see above) and I will also be trying a few new ideas for this season with things like monthly awards such as top scorer and assist maker etc. Details will be posted on the site very soon.
We will be keeping the weekly Wednesday match nights with the usual sign up post (Yes I know I will be playing more matches this season

). The theme of the club is to still have a laugh, not to take things too seriously and we welcome players of all skill levels - crikey I play and you can't get worse than me! lol.
The season officially starts on Thursday 29th September but the club is already set up and you can access it now with an invite. You need the 10 hour trial with EA access. You can start playing from now but we will be still having our last official fixture night on FIFA 16 on Wednesday 28th Sept.
Post below and a club invite will be sent to you in-game. Any questions feel free to ask here or over Xbox Live to me - Ruffian Stew.
Have fun!
Ruff

The Squad
1. RuffianStew (Captain)
2. Iceman D18 (Vice Captain)
3. RaingodZippo
4. PR1NC3
5. DanielDavidFlaz
6. TheMehwarror
7. ShakeyLakey
8. Nash Effect77
9. PGtips77
10. MiketheMute
11.
12.
13.
14.
15.
16.
17.
18.
19.
20.


Last edited by RuffianStew on Sat Oct 01, 2016 2:22 pm; edited 8 times in total