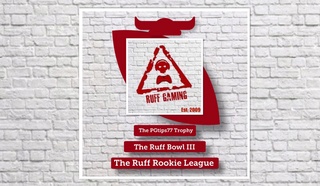 The Road to the Ruff Bowl III Starts Here!
Our Madden 2017 league is back for it's 3rd year. If you fancy taking part then post below in this thread. The league is open to all levels of players no matter your skill and experience with NFL and Madden. The League uses the in-game private league system so it is fairly easy and straight forward to take part.
Once you have posted below Mehwarrior (The League Host and Commissioner) will send you an invite to the league through the in-game menus. Any problems message him here or over Xbox Live - GT The Mehwarrior2.
Regarding the team selection post below 2 team choices and I will try to accommodated your selection as best as possible. Put the team your prefer 1st out of the 2 choices. Mehwarrior being last years champion gets 1st choice of the teams. Players who have played in the leagues before are more likely to get their 1st choice team where possible.
We will try to play 1 game a week (the fixtures will show up in game) unless all games are played sooner and Mehwarrior will advance it then. The warm up games will be played quicker than one a week if possible to speed things up. The league follows the real life NFL format. If you are unable to play that week then let Mehwarrior know and you game can be simmed. Just be aware if he is simming to many of your games then you may be booted out of the league (he will warn you when you are down to your last chance) to make it fair to the guys that are playing their matches on time.
The winner will earn a place in the Ruff Gaming Hallowed Halls of the Hall of Fame!


I have also this year redesigned the league badge/trophy. As you can see it has been named after the 1st champion of the Ruff Rookie League - PGtips!  
So choose your team and post below! Players can sign up while the warm up games are playing but once the league has started then no new players can join!
We have plenty of space so spread the word and get your friends signed up!
Ruff

Players

1. RuffianStew - Miami Dolphins
2. TheMehwarrior - Oakland Raiders
3. PGtips77 - Washington Redskins
4. X Bulldog - NY Giants
5. OddBeatty - Arizona Cardinals
6. RaingodZippo - Atlanta Falcons
7. Nash Effect - Carolina Panthers
8.
9.
10.
11.
12.


Last edited by RuffianStew on Mon Mar 20, 2017 7:51 am; edited 7 times in total