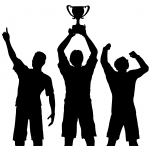 RuffiansFC
Play Fair - Play Ruff
Est - 02/10/2009

RuffiansFC - The Contract
Game - Fifa 11
System - Xbox 360
Start Date - 1st October 2010 Onwards
Squad Places - 32
With
Ruffian's FC
being way bigger than I ever expected last season with Fifa 10 we have now moved the club onto Fifa 11 on the Xbox 360 from Oct 1st 2010.
Who & what are RuffiansFC? Well we are a Pro Club on Fifa 10 & 11 played on the Xbox 360. We are a gaming community all about having fun - Yes we do like to win but everything we do is based on having a laugh on the virtual football field.
RuffiansFC meets at least once a week (normally a Wednesday evening) but we often end up playing a lot more than that. We welcome all players whatever their level of skill - the only thing we ask is that you come to have fun.
We also have RuffiansFC.TV which is our in-house TV that shows highlights from our games (highlights where possible) and we also hold Goal of the Month & Goal of the Season Competitions that the community gets to vote on. To view RuffiansFC-TV you can head over to our forum or search for RuffiansFC on YouTube where all of our video clips are available.
Most of you know what you have to do to sign up as it is the same last season. But for the new guys there are a few things you have to do to sign up. 1st off make sure you have created a
Be A Pro player
on Fifa 11. Then post below here to book your place on the squad. I will send you an invite through the in game menus. Easy as that!
The core players who stuck with the team through out the Fifa 10 Season will have a spot reserved for them on the new squad list (still need to post below though). If players take a spot but are in-active for a few months through the season and I have run out of space for new players that are trying to join I will remove the inactive players from the squad (I will message the player 1st).
To play games just look at the Fixture list section and on a listed date that you can play then post in that thread to book your spot.
That's it - Apart from make sure you have fun!
The Squad
1. RuffianStew
2. Xx em xX
3. mikethemute
4. mickyb (GT- efc1987)
5. Darkestfrost
6. BigAndiD
7. X Bulldog
8. NinjaNash
9. obesia blue
10. Wackybar8
11. RaingodZippo
12. Shakeylakey
13. aceplantman
14. The Mehwarrior2
15. PR1NC3
16. SheriffPyewipe
17. Baw Kicker
18. reverendpyewipe
19. DepressedMonk3y
20. silverkopking
21. cookies n footy
22. DAVE AVFC
23. g4ndu1f
In-Active Members Retired For The Season
Cammey
StuCowie
rikki32
Gingerninja83
barber92003
Gnats
Dunco23
MR asda price
mrdaafies
DJ KUMFORT
MadHansGruber
If you wish to re-sign for the club this season contact Ruffian Stew and if we have space you are welcome back.


Last edited by RuffianStew on Sun Sep 25, 2011 6:04 pm; edited 33 times in total