It is that time of year again that the Ruff Gaming's FIFA Online Pro-Club team grabs their boots and gets ready for the new up and coming season. Fifa 12 is now here and that can only mean 1 thing - A new season for RuffiansFC!
RuffiansFC is an Online Pro-Club on Fifa 12 on the Xbox 360. RuffiansFC was started back when Fifa 10 came out and we just had 5-6 players and we now have over 20 regular team members playing for the club.
The most important thing about RuffiansFC is that we are here to have fun and a laugh - NOT to take things too serious! Yes we like wining, we all like to win but if wining is top of your list then do not ask to join as we are the wrong club for you!
How do I get into RuffiansFC? Well if the above statement doesn't put you off joining then great. Do I have to be a good player? You might be the best player in the world but RuffiansFC might not be the club for you. I have built the club up over the last 3 seasons and we now have a great balance with-in the team of great characters and I will now be picky this season who I add to the team so not to mess up what has been created at RuffiansFC. So if your fun and want a laugh and to us it doesn't matter how well you play then post below that your interested and I will send you a private message here on the forum with further details. How I will work out if your a good fit for us is that I will put all on new members on a 2 week trial - not for skill but totally how you get on with the guys! If I think you get a long well in those 2 weeks then you will be made a full member.
For the team who played last year not to panic you have a place reserved. You still need to post below that you are in for this year. Once I have set the club up I will send out the invites to people who have posted below.
Fifa 12 allows you to have up to 32 members in your pro-club but so things don't get to crazy I will be limiting the squad to a smaller amount (not sure how many yet). This way the squad will all get a fair chance to play. Above is listed how many spaces available so to give you a clue if we are recruiting at the time you sign up.
Rulewise for RuffiansFC there isn't many but as you know the main 1 is to have fun but there is 1 other thing I am asking players wether new or old to stick to. It is that if you play for RuffiansFC then you must be happy to play anywhere and in any position. Because most people want to play up front and as we can't have 1 keeper and 10 strikers then I need to make sure everybody gets a crack in all positions. So to keep things fair as captain I get the final call on where people play. I will only really say anything if I think we are having problems with players not being fair hogging the better positions. So you might be our best striker but be prepared when called to have a few games at left back etc.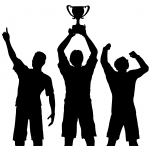 Phew glad that is all done - all that is left to say is post below and get ready for
WE ARE RUFFIANSFC
!
RuffiansFC - 2011/12
1. RuffianStew (Captain)
2. Darkestfrost
3. Catbhoy
4. The Mehwarrior2
5. mikethemute
6. RaingodZippo
7. DAVE AVFC
8. mickyb
9. Ninja nash09
10. X bulldog
11. Baw Kicker
12. g4ndu1f
13. reme22
14. PR1NC3
15. Obesia Blue
16. taz668uk
17. ICEMAN D18
18. mmattys30
19.
20.
21
22.
23.
24.
25.
26.
27.
28.
29.
30.
31.


Last edited by RuffianStew on Fri Sep 28, 2012 12:24 pm; edited 3 times in total